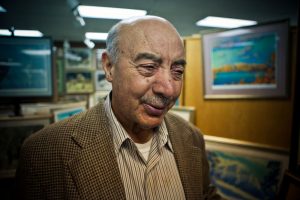 Mr. Mousa Obeidi's entrepreneurial spirit arrived to Alaska in the 1970's and he opened Alaska Art and Frame in 1976. A few years later the adjoining Obeidi's Fine Art gallery was opened and Mr. Obeidi became the largest privately owned frame shop and naturalist Fine Art dealer in Alaska. Forty years later it is still a family-run business with his sons and their wives and children involved in the day-to-day operations. Many framing franchises have come and gone, but Obeidi's has been a stable and reliable art dealer in Alaska for over 40 years.
Obeidi's carries the largest inventory of Machetanz, Doolittle and other noted naturalist artists. The artists have become friends to Mousa and over the years those relationships get passed on to the buyer of their works. From original signed pieces to prints, we still offer over 40 years of experience in framing your artwork to ensure you and others can enjoy the beauty of the artists rendering.
Obeid's Fine Art is an authorized dealer for Greenwich Workshop and Mill Pond Press. This means that your artwork is guaranteed legitimate and is insured for it's legitimacy. Beware of frauds and damaged artworks. Consult only professionals. Whether you are located in Alaska, Canada or the Lower 48, do not hesitate to contact us for an estimate or to check our extensive inventory.