With an aptitude for making high-quality custom frames to order and a strong focus on service and installation, the Alaska Art and Frame Center has redefined the custom framing business. Obeidi's Fine Art Gallery and the Alaska Art and Frame Center is a family-owned and family-operated company, which has grown to encompass a highly skilled team of craftsmen and designers whose expertise enables them to bring any vision to fruition.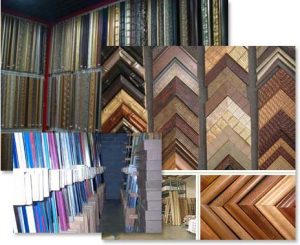 Our fine art framing department has been one of the longest original owners in the Anchorage area and we have a wide array of matting, frames and glass options. Additionally, we take pride in our ability to assist art owners to compose the best selection for their particular piece of art, awards, photography or cloth piece.
We work with only the most state of the art equipment, from our computerized mat-cutter to our two double mitre saws. We use several different chopping and joining techniques which allows us the ability to work with all of the top notch moulding vendors. All of our customer's pieces are assembled using only conservation materials, so you can rest assure that fading or discoloring of your artwork will never be an issue. Whether it's an original Picasso, Miro or Chagall or more personal objects, such as memorabilia or children's art, the Alaska Art and Frame Center has the ability to frame it all! If you think it may look like something you would want to see framed, bring it in – we can do it! Everything we do here is in-house and rush services are available upon request.
Please call the Frame Center today for any questions or quotations.
(907) 561-5163